Welcome to Pike County Times.com

Consider buying an advertisement for your business or sending a donation to Pike County Times to support the only free online newspaper in Pike County. Donations can be sent to: The Pike County Times, PO Box 843, Zebulon, Georgia 30295. You can donate through PayPal link at the bottom of the page. You can also donate through www.venmo.com/u/pikecountytimes and $pikecountytimes.
Thanks for supporting Pike County's only free online newspaper!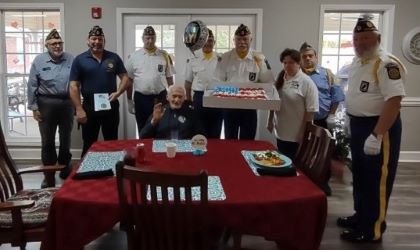 Photo courtesy of Post Legionnaire Jeff Sheriff: Legion Family members with Mr. Roberts (From left to right) Bill Weekley, Commander Paul Chatterton, Stefan Huckaby, Mr. Roberts, Bryan Richardson, Steve Golias, Melissa Patten, Jason Patten, and Tim Dukes
Photo courtesy of Jeff Sheriff: Post 197 Legionnaire Team of Ted Gustin, Jeff Sheriff, Matt Germain, Dennis Tea, Stephen Golias, Bill Weekley, Bryan Richardson, Timothy Dukes, and Ronnie Griffin.
WWII Veteran Celebrates 98th Birthday
ZEBULON - On January 8, 2023, the Pike County American Legion Post 197 along with staff and residents of Pike Manor helped celebrate Robert Walther's 98th birthday. "Mr. Robert" as he is called, is a member of the Greatest Generation, WWII veteran, and honorary Post 197 Legionnaire residing at Pike Manor who does not have a family.
As the residents were just finishing lunch, Legion family members from Post 197 made a visit to the Pike Manor dining room where they honored Mr. Robert's birthday with a personalized patriotic cupcake cake, read and presented him with a special Post 197 birthday card, and sang Happy Birthday. The residents were able to partake in the singing and the enjoyment of the birthday cake.
During the celebration Post 197 Historian Bryan Richardson read Mr. Robert's military biography which enabled the residence and staff along with the Legion Family a better understanding of his military background.
During the coordination for this event, Post 197 discovered that Mr. Robert's eyeglasses were unrepairable. As a birthday gift, Post 197 is working with Pike Manor to get him an eye exam and new eyeglasses. Shannan Kraatz stated, "Mr. Robert uses his glasses especially during our Bingo programs."
Also present at Mr. Robert's birthday party, were four younger Veterans from Pike Manor: WWII Air Force James Cook, WWII Army Robert Kolb, Korean War Air Force James Pope, and WWII Air Force Billy Smith.
Following the birthday celebration, Post 197 made these Veterans honorary members of the American Legion.