Welcome to Pike County Times.com
This online news website is owned and operated by Becky Watts. If you enjoy reading Pike County Times, consider buying an advertisement for your business or sending a donation to support the only free online newspaper in Pike County. Donations can be sent to: The Pike County Times, PO Box 843, Zebulon, Georgia 30295. Click here to donate through PayPal. Thanks for supporting Pike County's only free online newspaper!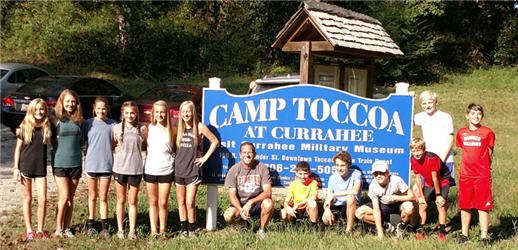 L to R: Addison Stuart, Aisley Sampler, Lauren Smith, Catherine Stuart, Jamie Wallace, Mary Elliot, Coach Todd Child, Cooper Hanson, Aiden Potter, Garrett Child, Andrew Edwards, Luke Woerner, Noah Strader. Photos courtesy of Pike County Middle School Cross Country. More photos below the article.
Middle School Cross County Conquer Mt. Currahee
By Guest Columnist Todd Child
ZEBULON - The Pike County Middle School cross country teams traveled to Toccoa in early October to run the famous three miles up and three miles down Mt. Currahee made famous by the Band of Brothers from the HBO mini-series.
During WWII, the Airborne was given birth at Camp Toccoa. Easy company of the 506th regiment of the 101st Airborne was one of the groups to train there. Part of Easy company's training regiments was to run to the top of the mountain and back.
The training paid off during its time in the European Theater of WWII. The group bravely parachuted behind enemy lines the night before D-Day to secure key positions leading up to the beach landings. Because of their efforts, the lives of numerous soldiers coming ashore on Utah Beach were spared.
After Normandy, the 506th fought in Holland during Operation Market Garden, the Battle of the Bulge and on to Hitler's mountaintop retreat called the "Eagle's Nest."
The cross country team and their families arrived to beautiful day filled with sunshine and pleasant temperatures. The run was very challenging, but the runners paced themselves well and, though a bit tiered, made it to a resting place about 75 meters from the top. The first few runners waited for the other runners to arrive so they could finish the climb together.
Once at the top, the runners one by one touched the geographical survey marker that the original Band of Brothers touched before heading back down. After touching the marker, their coach shared with the team some insightful facts pertaining to the effort the soldiers gave and how the paratroopers had to do the run in under fifty minutes.
After a brief respite, the team ran back to the bottom and view the lone remaining building from the original camp and then traveled into Toccoa to the museum gift shop to purchase t-shirts to mark the occasion. Several of the runners collected a rock from the top of the Currahee to remind them of not only what they accomplished, but to remember the sacrifice of those who blazed the trail 75 years ago.