Pike County Times


Welcome to Pike County Times.com
This online news website is owned and operated by Becky Watts. If you enjoy reading Pike County Times, consider buying an advertisement for your business or sending a donation to support the only free online newspaper in Pike County. Donations can be sent to: The Pike County Times, PO Box 843, Zebulon, Georgia 30295. Click here to donate through PayPal. Thanks for supporting Pike County's only free online newspaper!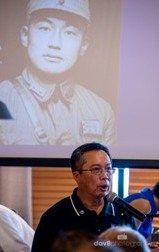 Photo courtesy of dave8photography.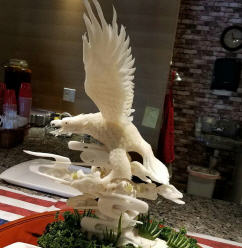 Photo courtesy of John Hanson.
Photo courtesy of dave8photography.
Atlanta Chinese Welcome Pike County Visitors to Johns Creek
By Editor Becky Watts
JOHNS CREEK - On Saturday, July 1, 2017, the Chinese and Pike County communities met in Johns Creek, Georgia along with two members of the Oxford Family to celebrate a new friendship that began on the day of 1st Lt. Robert Eugene Oxford's funeral less than one month earlier.
The purpose of this assembly was to invite the Oxford Family and some of the Pike County community to visit the Atlanta Chinese community. The Atlanta Chinese community wanted to show its appreciation to the American people for sacrifices made in WWII to help defeat the Japanese invasion of China. The assembly was well-attended and brought smiles to many people.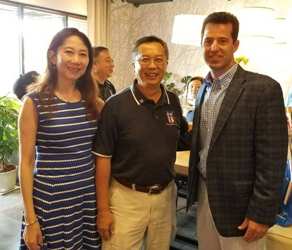 Photo courtesy of John Hanson.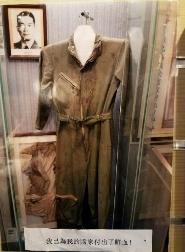 Photo courtesy of John Hanson.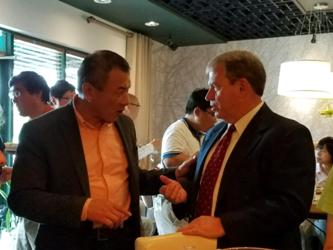 Photo courtesy of John Hanson.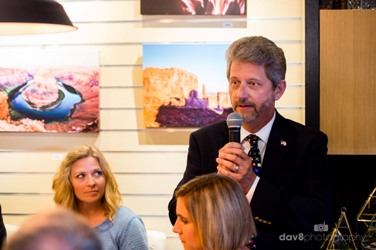 Briar Johnson speaking. Photo courtesy of dave8photography.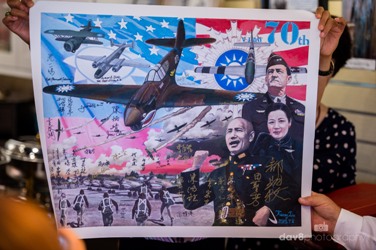 Flying Tiger picture. Photo courtesy of dave8photography.
A Beautiful Friendship
1st Lt. Oxford was one of a crew of eight on a B-24J Liberator named "Hot as Hell." They were flying over The Hump from China to Chabua, India on January 25, 1944 when their plane crashed and the entire crew was killed. Their deaths remained a mystery until Arizona adventurer Clayton Kuhles found the crash site in 2006. This was one of the first World War II plane crash sites identified in Arunachal Pradesh. You can view crash site pictures at miarecoveries.org/media-B24J_73308.html.
Pike County Times has covered the long journey home for 1st Lt. Oxford since 2007 when the family found out about the discovery. A conversation between Mayor John Strickland and Frankie Flanders led to a conversation between Frankie and a close Chinese friend, Ms. Suping Feng about 1st Lt. Oxford at a real estate closing in April. These conversations turned into an amazing show of respect at Lt. Oxford's funeral in June.
By the time that the funeral began, there were over 250 Chinese in attendance from the greater Atlanta area, and some flew into Atlanta from Philadelphia and New York to attend the funeral. Not one of these visitors to our community knew Eugene personally, but they came to show their respect and honor to a man who had given his life not only for our freedom, but for theirs.
The Concord community opened up the Strickland Building after the funeral for an informal gathering of the Oxford Family and the Chinese community. You can read about this by clicking here.
Suping said that Mr. Oxford's story has moved so many Chinese people in USA and in China including Taiwan. The funeral was an opportunity to build a friendship between two cultures. This friendship was continued on July 1, 2017 when the Atlanta Chinese community invited the Oxford Family and representatives from Pike County to attend an assembly in Johns Creek located in Fulton County, Georgia.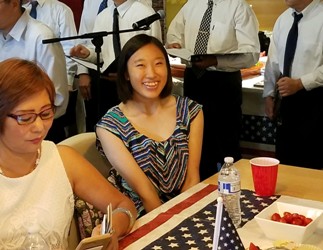 Photo of Taiwanese exchange student Angel Tang. Courtesy of John Hanson.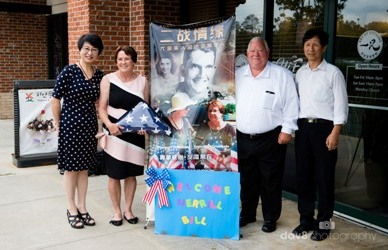 David and Hui with Bill and Merrill. Photo courtesy of dave8photography.
Photo courtesy of dave8photography.
Photo courtesy of dave8photography.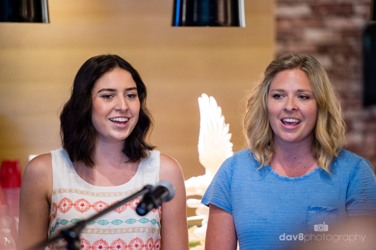 Rebekah and Georgia singing. Photo courtesy of dave8photography.
Merrill Roan speaking with Nancy Du standing beside her. Photo courtesy of dave8photography.
John Hanson speaking. Photo courtesy of dave8photography.
Welcome to the Atlanta Chinese Community
The invitation read, "WWII Friendship: Welcome Mr. Oxford family to Atlanta Chinese community. Giving our sincerely gratitude. May friendship last forever in our hearts." As Ms. Suping pointed out to us, "As you know, people can understand each other only when we have opportunities to communicate with each other." That is so true and the gathering of people from two different cultures brought them together once again to remember the past and look forward to the future.
Bill and Merrill Roan met at the home of David Tang and Hui Huang prior to the public assembly at the Yifan Club in Johns Creek. Merrill and Hui had spoken at the graveside when Merrill hugged her and told her not to be sad because this was a celebration. Hui told Merrill that she didn't understand and explained to Merrill that if it were not for Eugene and others like him, none of these Chinese would be alive because of the horrible things that had been done to them by the Japanese. Merrill asked for Hui's contact information after the funeral, and they have become close friends. Merrill told me that Hui and David made Bill and her feel so at home. "She [Hui] told me she wanted us to think of their home like ours," Merrill said. "We talked and exchanged gifts and laughed. We talked about how amazing it was how we met. It's like Hui said, our hearts touched." David and Bill found out that they both love soccer!
Americans like 1st Lt. Robert Eugene Oxford and members of the Flying Tigers were honored at this gathering. WWII was a long time ago by historical standards, but as members of the Oxford family learned at the funeral, many Chinese would not be here today if it were not for the bravery of those who fought against the Japanese invasion at that time. The Pike County community and members of the Oxford Family were grateful to be invited to this gathering of two cultures.
Nancy Du helped to organize this amazing event. "I really appreciated this unique opportunity to honor the hero, and celebrate freedom and friendship with people from my community and the friends from the Pike community," she said. "No matter where we grew up and how we were brought up, as individuals, we cherish family, friends, freedom and love. It was those values that united all of us at that event."
I have learned that the Chinese hold community events to celebrate Chinese traditional holidays together on a regular basis. The difference in this was that the Pike County community and family members of the Oxford Family were asked to their celebration. "When I was planning this event, I wanted to make it a celebration of hero and friendship but also Freedom and America, the country I love dearly," Nancy said. The planning team for this event also asked everyone to wear red, white or blue in the invitation to the event. There were 4th of July decorations, and Nancy's friend Judy learned and sang God Bless the USA.
Rebekah and Georgia Hanson sang the National Anthem as well. Click here to see Rebekah and Georgia Hanson sing. Nancy said that this was a great event and that she looks forward to getting together again in the future.
Photo courtesy of dave8photography.
Photo courtesy of dave8photography.
Photo courtesy of dave8photography.
Photo courtesy of dave8photography.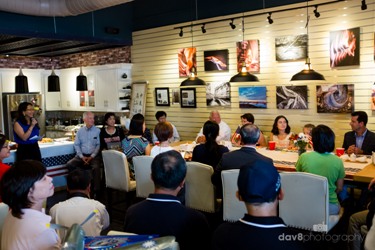 Photo courtesy of dave8photography.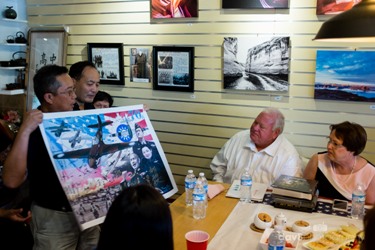 Photo courtesy of dave8photography.
Invited Guests and New Friends Share a Meal Together
Among the invited special guests were Hong Yao, the granddaughter of a Flying Tiger pilot, Zheng Yao (pictured above); David Qiao, the son of a Flying Tiger pilot, Qiao Wujie (pictured at the top of the page); County Commission Chairman Briar Johnson and his wife Kim; County Manager John Hanson, his wife Rebekah, and their daughters Georgia and Aubrey as well as Angel Yang, an exchange student from Taiwan who is staying with them right now; businessman Frankie Flanders; and representatives of the Oxford Family, Bill and Merrill Roan.
Those who attended told me how delicious the food was, and the sculptures from vegetables were pretty amazing! The picture at the top of the page gives an idea of the intricacy of his work.
"Pike County is grateful for the continued honoring of Lt. Eugene Oxford on July 1 in Johns Creek by the Chinese community," said Pike County Commission Chairman Briar Johnson. "Pike County's own Rebekah and Georgia Hanson sang the National Anthem, families paid tribute to two former pilots who were Flying Tigers, and a beautifully framed piece of art (translated message: the relationship between China and America is beautiful like a river flowing by a mountain) was given to Lt. Oxford's family. We were blessed to be a part of this event. This group of Chinese Americans truly makes the family members of fallen soldiers who have sacrificed their lives feel like heroes."
"All of the Chinese were so friendly," Merrill said. "I am thankful for our new friends." She also said that it was an honor to meet some of the relatives of Flying Tigers. David Qiao found his father's picture in the Flying Tiger's book given to the family after the funeral and signed the page with his father's picture.
Merrill's husband Bill said that the food was fantastic and repeatedly described the gathering as amazing. "It was amazing to see these people so appreciative of Uncle Eugene," he said. "A different culture shows us the different side of the war." He praised the Atlanta Chinese as their host and thanked them for their generosity.
John Hanson told me afterward, "It was an honor to share in this wonderful event recognizing these war heroes!"
"It was amazing, and we are looking forward to keeping a great relationship with them," said Rebekah Hanson. "They were wonderful hosts and the program was very heartfelt!"
Frankie Flanders echoed Rebekah's sentiments: "The Chinese Community at Johns Creek was so gracious to invite us to represent their new friendship with the people of Pike County." He said that the Atlanta Chinese community was very honored to have Briar Johnson and John Hanson officially attend on behalf of Pike County and that Rebekah and Georgia Hanson sang the National Anthem as a thank you during the program. "It was good to be with patriotic people from both cultures," he said.
Frankie also pointed out that the Chinese Community have already raised almost one-third of the money needed to bring back the other crew members from Lt. Oxford's plane since the funeral through MIA Recoveries, Inc. The importance of this will become apparent by the end of this article and in a later article that I am writing on the DPAA, the government agency that recovered the remains of one of eight crew members, 1st Lt. Robert Eugene Oxford, and then returned home citing safety issues, etc.
More on how to help bring home the remaining crew members in the closing below.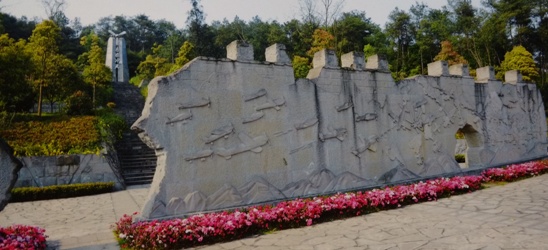 These are photos of the Chongqing Air Force War Memorial. The Chinese people remember the sacrifices that the United States and its pilots and airmen made in WWII. These photos were given to the family by Zhang.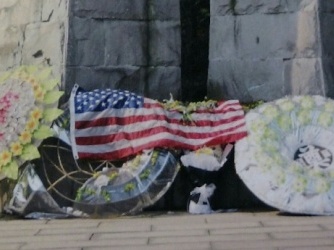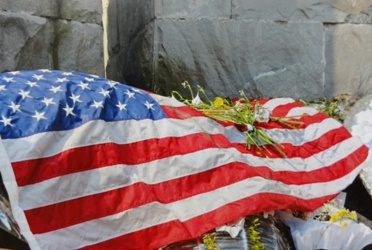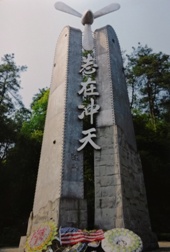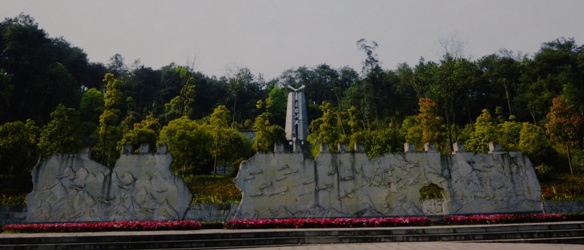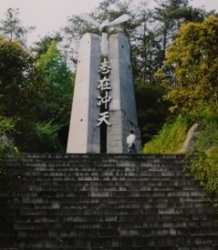 Closing
Those who were not able to attend due to previous commitments, Mayor Bobby Blalock and Mayor John Strickland, were able to send their greetings by letter. I was also invited but could not attend so I sent greetings by letter as well.
Songs were sung, gifts were exchanged, photos were taken, and memories were made this day. Friendships are growing too. Expect to see many from the Atlanta Chinese community in Concord at the Jubilee in October.
To read more about this amazing story of new friendships and a celebration of a hero from two cultures, click on the following links:
BREAKING NEWS: Bringing 1st Lt. Robert Eugene Oxford Home: A Celebration of A Hero from Two Cultures
Chinese Community Pays Its Respects to a Long-Lost Hero, By Guest Columnist Al Zhang, Courtesy of Atlantachineselife.com
BREAKING NEWS: Bringing 1st Lt. Robert "Eugene" Oxford Home - Part I
BREAKING NEWS: Bringing 1st Lt. Robert "Eugene" Oxford Home - Part II

If you would like to make a tax-deductible donation to help bring home the other members of the "Hot as Hell" crew whose remains are still on a mountainside in northeastern India, donations can be made to MIA Recoveries: www.MIARecoveries.org. All donations received are deposited with MIA Recoveries, Inc. MIA Recoveries, Inc. is a 501(c)(3) non-profit public charity registered with the IRS. Donations are tax-deductible.
We remember and honor the entire crew of "Hot As Hell" and mourn their loss for their families:

Pilot 1st Lt. William A. Swanson, O-728935 (MIA / KIA) Proctor, VT
Co-Pilot F/O Sheldon L. Chambers, T-000291 (MIA / KIA) Altoona, PA
Navigator 1st Lt. Irwin G. "Zipper" Zaetz, O-791661 (MIA / KIA) Burlington, VT
Bombardier 1st Lt. Robert E. Oxford, O-663308 (MIA / KIA, BR) Concord, GA
Engineer SSgt Charles D. Ginn, 15084114 (MIA / KIA) Crete, IL
Radio SSgt Harry B. Queen, 11021096 (MIA / KIA) Onset, MA
Gunner Sgt James A. Hinson, 14188472 (MIA / KIA) Greensboro, NC
and Gunner Sgt Alfred H. Gerrans, Jr., 34315848 (MIA / KIA) Kinston, NC.
Clayton Kuhles from MIA Recoveries, Inc. has expressed an interest in going back to India to recover the remains of the seven remaining crew members since the DPAA seems to be showing a reluctance to go back to the "Hot as Hell" crash site. "If funding can be arranged, I'll immediately apply to the Indian government for the needed permits and start mobilizing my archaeologist team," he said. "I would like to return to Hot as Hell this fall and complete the excavation work."
Family members continue to pass away as they wait for the DPAA and our government to bring our WWII service members home from this area of the world. More on this and my very first Freedom of Information Act request in an upcoming article. This concerns the DPAA and how it conducts its bidding process to bring home our soldiers who have been killed in action in the service of our country during WWII in northeastern India.
I will also update "A Tale of Two Genes" in an upcoming article after a follow up visit with Montine Wilson, the best friend of 1st Lt. Robert Eugene Oxford's fiancé when he was killed in action. Merrill and I went to visit on July 4 and had a wonderful time!